Le nouveau Jameson Coldbrew
C'est une distillerie qui est énormément connue pour le fameux « shooter de St-Patrick » et pourtant elle a tellement plus à offrir. Jameson est bien connue et pourtant est encore dans l'ombre de son succès. C'est une distillerie qui innove sans cesse, pionnière dans beaucoup de domaine et est toujours à l'écoute des nouvelles tendances. Ce whiskey Irlandais m'avait fasciné avec sa ligne Caskmate qui encore selon mon humble avis est le vieillissement en baril de bière le mieux exécuté. Pour ceux qui ne connaissent pas encore, la ligne Caskmate s'est fait un nom avec l'édition vieillie en baril de stout qui a su séduire les amateurs de whisky et de bière. Par la suite, on a connu le Caskmate IPA qui est un coup de foudre pour ceux qui appréciaient le goût d'agrume et tropical de la New-England IPA. Finalement l'année dernière, Jameson a touché notre cœur de Québécois en choisissant des barils de Péché Mortel, une Stout Imperial à l'espresso brassé par Dieu Du Ciel à Terrebone et gagnante de plusieurs médailles internationales.
Cette année, la distillerie nous présente une toute nouvelle expression, le Jameson Coldbrew. Je dois avouer que j'ai été un peu sceptique au début, je ne m'attendais pas à ce que ce soit une sorte de liqueur. Dans ma tête, Jameson a toujours fait du whiskey et après le succès des Caskmate, je pensais les voir continuer dans cette voie. Cependant, je suis agréablement satisfait du liquide, il est important de mentionner que celui-ci est destiné à une clientèle qui s'introduit au whiskey et probablement pas aux buveurs puristes. Le liquide est à 30% d'alcool et est un assemblage de café infusé à froid et de whiskey. L'infusion de café « ColdBrew » est produite dans l'enseigne de la distillerie à partir de grain de café arabica de la Colombie et du Brazil. L'expérience générale a été agréable, je pourrais le décrire comme le parfait breuvage pour terminer une journée de randonnée hivernale ou de descente en ski.
Ma dégustation

Nez;
On a certainement des notes de café au nez mais qu'est ce qui ressort le plus selon moi c'est la tarte aux pacanes. Plus le liquide respire, plus je sens cette odeur de noix et de sucre similaire à ce dessert. Je vous recommande également de le faire respirer puisqu'à mon avis il y a beaucoup plus d'arômes qui en émanent. Je sens également de la poudre de cacao, des grains de café fraichement moulu et un peu de date cuite.
Bouche ;
Très léger, légèrement sucré, on ressent l'amertume du café et une belle évolution de saveur
Final;
Cacao, légèrement amer et sucré comme un cappuccino
En général;
Le liquide évolue super bien en bouche, du début à la fin on gravite à l'entour du café et du cacao
Interview
Corby Spirit & Wine basé à Toronto est la compagnie en charge de la distribution canadienne de Jameson. Pour la St-Patrick 2021, qui se déroule à domicile pour plusieurs d'entre-nous, ils ont décidé d'envoyer une boite cadeau à plusieurs personnes et même d'organiser un spectacle en ligne pour rendre cette journée plus festive.
J'avais plusieurs questions concernant le nouveau produit Jameson et grâce à l'entreprise de Ryan French Macdougall j'ai réussi à avoir des réponses de la part de Claire Freel qui occupe le poste de « Whisky Portfolio Consultant » pour Corby.
Jameson Cold Brew
| | |
| --- | --- |
| Question | Réponse |
| Avez-vous des informations à partager à propos de la recette et du procédé de fabrication ou c'est encore secret? Est-ce juste un mélange de Jameson avec un Coldbrew ? | It takes the regular triple distilled Jameson and is mixed with cold brew 100% arabica coffee from Columbia and Brazil. Instead of using hot water, we use cold water over a longer period to extract the coffee and flavors over 12-24h. The infusion process is of the cold brew and Jameson is done at the Middleton brewery |
| Après avoir fait de supers belles expressions dont les Caskmate, pourquoi Jameson s'aventure dans une liqueur de Whiskey ? | It's actually not a liqueur, it's an Irish whisky first with cold brew flavors! That's what separates us. The reason we decided on coffee, is that we were aware of the international trends and the increased interest in coffee culture and tapping into new consumers who were traditionally less inclined towards whisky, but now would be open to try this product. |
| Comment avez-vous fait le ColdBrew ? il provient d'où et comment les grains ont-ils été choisis ? | International trends once again, we noticed that the two worlds of coffee drinkers and whisky drinkers overlapped to some extent, so it made sense to us bridge them together even more by introducing this product. Let's not forget the traditional irish coffee that have been present for years, why not mix those flavors in an easy to mix with way so people can enjoy it. |
| Est-ce que le Jameson Coldbrew est en édition limitée ou ça va être en approvisionnement continue ? | As long as Jameson Cold is purchased it should stay on the shelves! As of right now it's a continuous product available at the SAQ |
| Quel est la stratégie de la compagnie pour ce produit ? Est-ce plus les consommateurs à la maison ou le milieu des bars ? | It's Irish Whisky first, to enjoy neat or on ice. The ability to incorporate into cocktails is easy. Compared to a liqueur is had no added sugar, and again is a whisky first. By preimmunizing the base as whisky, we stay true to our whisky drinkers but also appeal to coffee aficionados. With the design of the product, it's something that can be easily mixed at home, but also has the ability to make fun coffee-based cocktails with the deep rich flavors. |
La boite Jameson
| | |
| --- | --- |
| Question | Réponse |
| Qu'est-ce que tu peux nous dire à propos de la boite Jameson ? | These are our party at home kits, to give you tools to help you celebrate at home. The goal was to go in tandem with the Jameson x Jessie Reyez concert. It was all about celebrating at home. We partnered up with an awesome Montreal appeal company, and because we wanted it to be Canadian made. |
| Combien de boites ont été distribué au monde ? | Each country approached it slightly differently supporting local companies to partner up with Jameson, such as Raised by Wolves here in Canada. In Quebec we selected about 10 individuals to receive the boxes. These boxes are also on sale for $70, however no bottles are included in the hit. The kits that were gifted to individuals who are knowledgeable and recognizable bartenders/owners who have an elevated appreciation for whisky and Jameson Whisky in particular. |
| Qu'est-ce que Jameson a prévu pour la St-Patrick cette année ? | So, join us this St. Patrick's Day for a celebration like no other. As we connect Jessie Reyez and friends with you. And all you've got to do is… yep! Join in. |
| N'importe quoi d'autre que tu voudrais partager avec nous à propos de la boite Jameson ? | Super important point, that $5 from every kit sold is being donated to the Bartenders Benevolent Fund to support people in the industry. |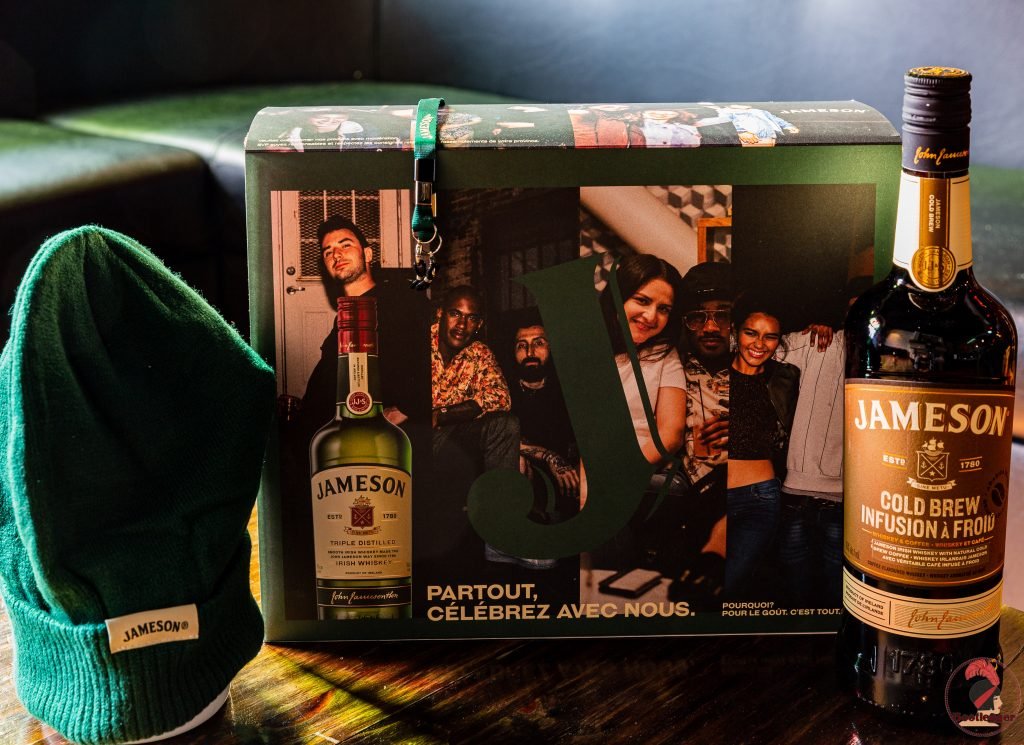 De la Belle Visite
À l'occasion, on a eu de la belle visite au Bootlegger pour un tournage. Loyd et Bambino vous suggère un cocktail à base de Coldbrew avec une touche de farfadet.